It figures that the first full week of nice weather we have, we are all sick. Well, everyone except for Al. Can someone please explain to me how a man who eats no fruits or vegetables and does not take vitamins always manages to avoid getting sick? Maybe I should look into the meat and carb diet he strictly follows. Seriously though, I've had a dry, nagging cough for two weeks, and the amount of snot and phlegm I expel from my body every morning surely qualifies me for some Guiness Book of World Records title. Just keepin' it real.
We have been doing a lot of this
and this
We did manage to make it out of the house to attend a cute Philadelphia Zoo-On-Wheels event where MJ was picked to hold an elephant ear.
I'd be lying if I said I wasn't grossed out by that. I mean, it's the ear of a dead animal. Kind of creepy. (Remember, I'm the gal who is scared of
raw meat
) MJ thought so too and insisted on leaving the event to wash her hands. Luckily, a mom next to us overheard and loaned her some hand sanitizer. It's funny because MJ has inherited nothing from my genes other than my neurosis. Poor girl.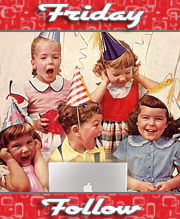 If you've popped over from
Friday Follow
, I promise I don't always write about being sick and dead animal parts. Stay tuned for next week when I discuss bubba's obsession with butts. Riveting.